"Firewood" Bowls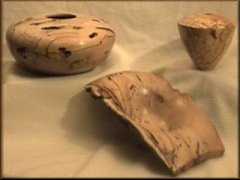 Three bowls turned from wood that
was rescued from the firewood pile.

Left: Wormy, spalted maple; 7 3/4" x 3 1/4"
Right: Spalted curly maple; 4" dia. x 3 1/8", 1/16" thick.
Center: Wormy, spalted apple; 8" x 5 3/4" x 2 1/8".



"The Veil Torn"
14" x 16 1/4"

American black walnut, Ceylon satinwood, maple, caviuma, black cherry, amber wood, East Indian laurel, sapele.



"Praying Hands"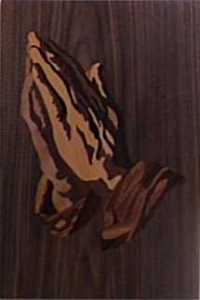 10 1/2" x 15 1/2"

Background is American black walnut, Bee's wing golden narra, ivory wood, black cherry, maple, Honduras rosewood, sapele, East Indian laurel.

"Baby Bunting"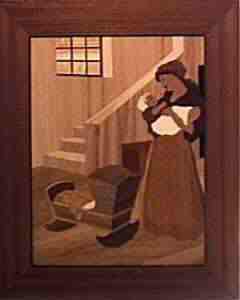 16 1/2" x 20"

Sapele, English beech, Australian lacewood, black cherry, holly, pear American black walnut, purpleheart, white oak, ebony, bee's wing peroba rosa, aspen, maple, bubinga.

"Sunset View"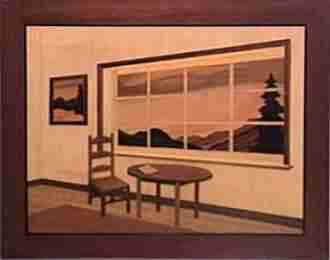 17" x 13 1/2"

American black walnut, paldao, prima vera, imbuya burl, makore, sweet gum, persimmon, planetree, black cherry, white oak, Brazilian rosewood, caviuma.

Return to top.